Seamless Serenity: The Ultimate One-Piece Nursing Bras For Pregnancy And Beyond
Experience unparalleled comfort and unwavering support at every step of your pregnancy with our exceptional one-piece nursing bras. Meticulously designed with a keen eye for detail, these extraordinary bras are tailored to accompany you seamlessly through the transformative phases of pregnancy and into the postpartum period.
Crafted for the utmost comfort and convenience, our nursing underwear features ingeniously designed padding that dynamically adjusts to your evolving body shape. This thoughtful innovation provides a secure and snug fit that embraces your contours without compromising on breathability. The ingenious one-piece construction eliminates pesky seams and bothersome tags, delivering a smooth and irritation-free wearing experience that you deserve.
Our nursing bras go beyond aesthetics to offer gentle yet robust support for your burgeoning belly during pregnancy, alleviating the strain on your back and allowing you to confidently engage in your daily activities. As you transition into the postpartum phase, the rapid nursing access system empowers your breastfeeding journey, nurturing the precious bond between you and your newborn.
Indulge in the luxurious softness of our premium fabric that caresses your skin like a second skin, while the advanced water-retention technology ensures you stay fresh and dry throughout the entirety of your day. The elegant and timeless designs of our lingerie make them versatile complements to your maternity wardrobe, enabling you to revel in style without compromising on comfort.
Embrace the epitome of comfort and functionality as you navigate the intricate path of pregnancy and postpartum. Elevate your journey with the pinnacle of underwear excellence – a fusion of unparalleled comfort and groundbreaking innovation that speaks to both reproduction and tranquility. Discover the definition of true comfort with our Nursing Bras, your trusted companion through this incredible phase of life.
Specification:
Fabric name: nylon
Main fabric composition: nylon
Content of main fabric components: 75%
Lining composition: spandex
Content of lining material: 25 (%)
Shoulder belt type: fixed shoulder belt
Type of mould cup: thin mould cup
Whether there is steel ring: no steel ring
Design feature: one piece
Seamless: No
Buckle type: back four row buckle
Style: simple and natural
Error range: 1cm
Experience a traceless journey through the realms of pregnancy and feeding with our ingeniously designed solution.
Discover the convenience of a button opening mechanism that ensures a comfortably tailored fit, eliminating all traces of discomfort.
Unlock the ease of one-handed release, elegantly addressing the challenges that often accompany both pregnancy and feeding phases, presenting an uncomplicated solution to your unique needs.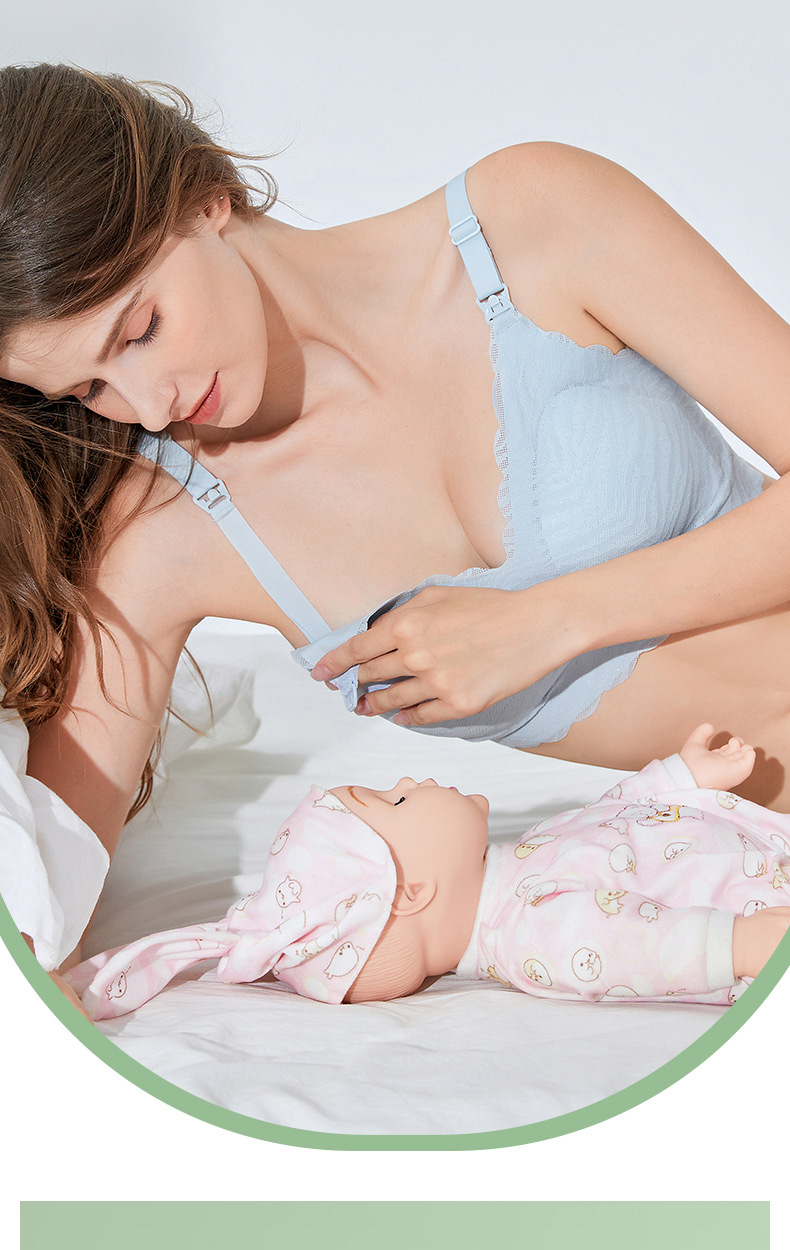 Elevate your pregnancy experience with our 3D cup-shaped innovation, thoughtfully designed to provide you with unparalleled comfort and freedom.
Experience remarkable tolerance and embrace the art of milk nurturing, as our cutting-edge design supports and enhances the natural process of milk raising. Discover a new level of harmony and ease as you journey through this transformative phase.
Experience the epitome of breastfeeding refinement with our upper opening design, meticulously crafted to shield and protect against any escaping light.
Simplify your breastfeeding journey with a single-button solution that effortlessly unveils the nurturing connection between you and your baby. Revel in the graceful art of bonding, all elegantly encapsulated in one exquisite feature.
Discover a world of timeless elegance and experience the perfect blend of comfort and confidence with our Nude Deep U-Back design.
Unlock a new level of support as our unique U-back structure gracefully embraces your contours, providing a secure fit that effortlessly holds without restriction. Say goodbye to worries about unwanted movement and discomfort.
Indulge in the allure of our High Appearance Seamless Lace Cup Surface, where elegance seamlessly intertwines with modern design.
Experience a new dimension of comfort as you embrace an unrivaled sensation of being free from foreign intrusions. Our exquisitely crafted lace cups offer a delicate touch that's both feather-light and remarkably flexible, allowing you to move effortlessly and with grace.
Experience the beauty of weightlessness as you journey through pregnancy with our thoughtfully designed solution.
Embrace true freedom with a bundle-free experience that ensures you're unburdened during this transformative phase. Say farewell to unnecessary weight and discomfort, allowing you to focus on what truly matters.
Experience peace of mind with our fixed cup innovation that maintains its original shape, even after being machine washed.
Embrace spaciousness and freedom with our large capacity design, specially crafted to accommodate your changing needs during pregnancy, ensuring your comfort is paramount.
Revel in unrestricted bliss as our steel-ring-free, binding-free construction offers you the liberty of movement without any compromise. Feel the liberation of being unburdened, with every moment of your pregnancy journey.
Nurture the well-being of expectant mothers day and night with our dedicated care. Our thoughtfully designed solution ensures you feel supported and comfortable around the clock, allowing you to fully embrace the joys of pregnancy. Experience a new standard of comfort and care, tailored to elevate your pregnancy experience to its fullest potential.